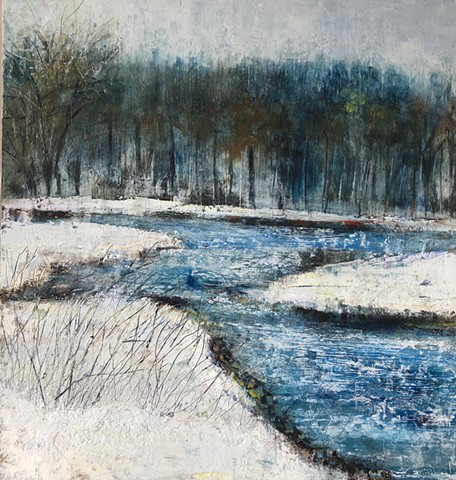 I am based in Chalkhill Studio Olivers Battery, Winchester. I am a trained nurse and had a long career in the NHS. Art has always been central to my life.
I have always painted even as a young child I wanted to be an artist!
I achieved my lifetime dream when I had the opportunity to study Fine Art at Winchester School of Art and Design. I gained my Masters in fine Art and began my career as an artist.
I have have exhibited internationally and throughout the UK.
My love for painting continues to develop and my work is often described as dreamlike, part real part memory .
I enjoy play and experimenting working in mixed media. I want to bring the paint alive and use exceptional mark making throughout the work.
I want to explore painting from a deeper level, often relating to my personal visual experiences of everyday life. My painting has an intuitive approach, which I develop through self reflection and spending time in the landscape, sketching on site capturing the essence . My paintings of skies, countryside and wildflowers appear throughout my work along with things that are part of a personal journey and history, the work embraces life experiences from both the past and present, exploring memories and trajectories of everyday life.
As I work in different mediums I feel it is important to relate to the landscape or study I am painting. I really want get a sense of place.
"Landscapes and skies are often overlooked, they surround us and yet can be missed as we are caught up in our busy lives ,
I like the idea they are part memory and part real. I have an intuitive approach to painting preferring to explore the colours of dreams rather than reality" They become part real and part of my dreamscape. They allow me to free myself from the reality of the everyday"
Please contact me if you would like to visit the studio or book for workshops. Please contact me on my contact page link
Samoen memories in from the cold 2020
Winter landscape cool blues heavy textured
oil and cold wax mixed media on wooden cradled board


60 x 60 cm
Oil and cold wax mixed media on board